Solution-Hope for the Homeless, Example One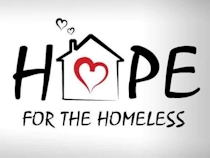 Solution-Hope for the Homeless-Example One
Having Lunch with the Homeless
One way to help lessen the impact of the homeless problem is to give hope to the homeless. One way of doing this is taking the homeless out  for a meal. Going beyond  a feeding program that can be  very impersonal and instead actually having a meal with a homeless person or several homeless individuals.
This make something clear-no homeless person in King County or Burien specifically is going to starve because of lack of food. There are food banks and feeding programs all over the place. A homeless person who is starving is a person who has refused to make use of the services offered to them. So you are not having a meal because the homeless person will starve, but to build relationship with the homeless person. Why? To give hope. Hope can bring amazing change in a person's life. More than giving hope you can build trust with the homeless person and 'earn the right' to speak into their life. You can actually get to the place of holding their hand as you lead them to resources. You can be one of the most influential persons in their life.
Testimonial
You actually do not have to be the one having a meal with a homeless person. You can be the one that provides the funds for this to happen.  The following is a true story with names and circumstances changed to honor the privacy of those ministered to.
I challenged individuals to stop grumbling and do something about the problem. I suggested that those who do care about the homeless to do something that makes a  difference. A local Burien resident said they did not have the time or skill to do the 'have lunch' concept, but they had the funds to help sponsor meals with the homeless. For a long period of time they provided funds to help feed the homeless in a more personal way.
So for the next several months I took one individual and groups of individuals out for lunch. Because of time constraints, out of State at times, and other challenges, I was not always consistent but made sure the funds were used for the homeless. My main goal was to build  some relationships with key homeless individuals. If their lives are changed they can influence others to change.
In the process I have had lunch with individuals in the news. I got to hear their stories. They trust me. They listen to me. I know if something was to happen to me they would protect me. They know they can come to me for counsel.
There is one person named Bruce. Bruce is seen among the homeless and others of having leadership skills. Through having lunches with Bruce I have been able to speak hope into Bruce's life. Others have confirmed what we have shared with him. As Bruce changes (he is getting mental health counseling, getting on a list for housing, sleeping away from the addicts and other homeless to avoid doing drugs) other homeless people are seeing it. They are taking note that what he is doing is working. Some are breaking up from very destructive and unhealthy relationships. Some are looking for treatment for the first time in their life. Bruce carries a Sharp container to gather needles. Others are bringing needles to him. Bruce has the ability to be a powerful leader within the homeless community. I am able to reach out to some of the worse of the homeless because of my relationship with Bruce. They even say he is my 'front man'.
All of the above has happened because of one person providing funds for meals. If the only life that is changed because of this is Bruce, the funds wee well spent. Bruce becoming a productive citizen will save taxpayers much more than the funds spent to take him to lunch.
One of the amazing things about Bruce is that as I have had interaction with hm, he has unknowingly ministered to me and has been used by God in my personal life.
So what is society missing, what is an individual missing, and what are you missing by not having a meal with a homeless person? Giving Hope to the Homeless is one of the solutions to reduce homelessness.