Exorbitant Rent Increase-Solutions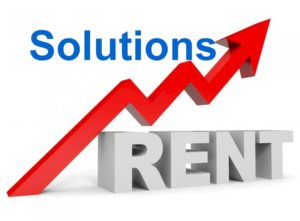 Exorbitant Rent Increase-Solutions
In our previous post we shared that there is a specific apartment complex in Burien that is increasing rents by $400-$550 more than what they have been. That is an increase of around 45%-60% increase. The residents have been given 50 days notice to move out or pay the higher rent. Needless to say most are unable to pay 50% more in rent, especially within 50 days. Also, how feasible is it for them to give their 20 days notice and to find another place. How many more apartment complexes in the area are doing the same thing.
The reason given for the increase is that there are new owners and they plan on making improvements to the property. This explains the exorbitant rent increase but does not justify such an outrageous rent increase. They may be legally able to do it, but I would think most would say there is something ethically, morally something not right with this. If nothing else it shows a total disregard to the fact that many of the residents will find themselves on the street, in shelters, couch surfing, etc. What is legal is not always 'right'.
It only makes sense that new owners are paying high market value for the apartments and that in the current market they could remove every single renter and get new renters at the higher rental price. But again, is it 'right' to do it so suddenly?
Solutions to Exorbitant Rent Increases in Burien
The following may not be solutions, but at least steps in the right direction. Some of the solutions are more feasible than others. Some solutions most may not agree with as a solution. But at least we are giving out potential options that if implemented might help the current residents and residents in other complexes that are experiencing the same challenge now or in the future. We can learn what actually works.
Appeal to the New Owners
Make an appeal to the new owners. Acknowledge they may have the right to raise the rents by 50% but ask them to increase the rent more gradual. Or ask if they will at least give more time for people to look for affordable housing. Ask them if they really realize that their actions are going to be putting families into potential homeless situations. Remind them this is all occurring right after school starts. Appeal to their hearts. The rumor is that one of the reasons they are increasing the rent so high is they are going to make major improvements. Ask them to delay the improvements. Explain that the current residents would rather not have the improvements than pay 50% higher in rents. So, not stop the improvements but delay (They of course want to improve the property and increase rents. They have every right to do that.) Ask them to do incremental rent increases over a year or six months. What if hundreds of Burien residents contacted them via letter, email, phone. What if everyone posted what is happening including the name of the owners if they refuse to budge?
Contact Real Estate Attorneys
If the new owners refuse to give any concessions, contact several real estate attorneys and find out if any will take on this case. Find out if there is anything illegal taking place in regards to exorbitant rent increases. Have them research to find out if the new owners are actually going to tear down this apartment complex and are trying to avoid giving moving reimbursements to residents. Find out if there is anyway to put a moratorium on the rent increases during litigation. The goal would be to get a real estate attorney that will provide Pro Bono services. If the new owners realize there will be litigation maybe they will delay the implementation of the 50% increase or be willing to do it in incremental stages.
Burien Citizens Help the Residents
This is an idea that most Burien citizens will most likely will not see as a solution. How about Burien citizens 'chipping in' to help the residents with their rent for a few months until they can find a more affordable rental option. Help only those who truly will be homeless or going into shelters. The truth most people say they care but they are not willing to be part of the solution if it costs money. The truth is there are many Burien residents that have sizeable incomes and savings. Especially those who have homes paid off years ago.
This solution is more feasible than you may think. Let's say there are 50 family units that potentially could be homeless, in shelters, couch surfing, moving into a 'dumpy/dangerous' apartment complex. Let's say that they will do whatever they can to pay 50% of the rent increase. That would leave 50% of the rent increase being covered by Burien citizens. Lets say that $12,500 needs to be 'donated' each month to this cause. There are approximately 7,000 members on the Nextdoor Neighborhood Forum. I believe it would be safe to say most care about Burien and the residents in community. If each Nextdoor member donated $2 per month to the cause, no one would be living in shelters or be homeless. Yes only $2 pr person. Say only 1,000 forum members donated. That would only mean $13 a month. Put a time frame on this-donate for the next 6 months.
Adopt-a–Family
I personally would be willing to pay $13 a month for a year to help a family. How about you?
Non-Profits Help Out
Are there some non-profit organizations that would be willing to jump in to help out? Would the Bill Gates Foundation or some other Foundation help out? Is there some kind of grants/funding for situations like this one?
Rent Out Vacate Rooms
How about Burien residents renting out one if their vacate rooms to a single person who has to leave the complex. Concerned about doing this? Then how about renting the room out to a money making executive who is never in town and donating a portion of the proceeds to a family each month. I know almost none will do this but if only one person does this, one family is helped.
Do you have a mother-in-law unit? Instead of renting it out to someone who is capable of paying higher rent some place else, how about replacing them with a single mom with a couple of children?
I have a single mom with several children that is so desperate she is asking our church to rent out a room in the church.
Rental Properties
Do you have a rental property that you rent out the entire property to one family? Can the family easily afford, or easily find another house to rent. How about renting the house out to 2-5 single instead of to the family. Help keep five people off the street.
Donate to Low Income Housing Programs
Donate funds to to organizations that are providing low income housing. Just one example is that our low income housing organization has access to two houses that would be perfect to rent out to a single mother or father or some single men or women. The problem is that in order to keep the rent affordable we would have a shortfall of around $300 a month. We cannot absorb that cost. But donations would make it feasible for us to provide low income housing.
Make a Difference
So what solution makes sense to you? Would you help to be part of the solution? Would you be willing to put into action one of the solutions? Would you at least share this post with others?
Contact Burien City Council
Is a 50% increase in rent with only 50 days notice a fair and reasonable action by a new apartment complex owner. I think most would say it is not. Request the Burien City Council to enact a statute that excessive rent increases require more notification or require that excessive rent increases be done in a more gradual manner.
Again, some of the solutions above are more feasible than others. Any of the suggested solutions are better than doing nothing. Any other suggested solutions? Anyone willing to start implementing some of these solutions? Give me a call at 206-396-1995. This do something for the sake of our neighbors that may become homeless or living in shelters.
LET'S MAKE A DIFFERENCE!