Needles at Park, Minimal Cost Solutions: Part One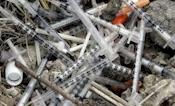 Needles in Parks, Minimal Cost Solutions: Part One
Many Burien residents are very unhappy with needles and other paraphernalia of drug addicts being on city streets, parking lots, parks, etc. I do not blame them. I certainly am not happy either. Before I share some solutions I should say that I in no way condone such behavior. As a pastor it would not be appropriate to use some of the words I would like to use regarding those show absolutely no concern for others, including the safety of children. Makes me angry and the Bible is clear that those who harm children have a tough judgment to face. But it clearly shows overall the nature of addiction-a lack of concern for others, or so caught in addiction not even aware of what you are doing.Many believe the way to stop needles from being disposed of in public places is to have Safe Injection Sites. Some are willing to pay thousands of tax dollars for such sites, using the argument that they reduce needles and paraphernalia in public places.. In this post I will not address the issue of Safe Injection Sites. (I addressed that in another article. I will be writing more articles on that topic and encouraging our community to have a town meeting on that topic, looking at the Pro's and Con's.)
I believe there are ways to reduce the amount of syringes/needles in parks that will be very minimal cost and at times no cost to the public. However, it should be pointed out that whatever is done, as long as their addicts there will be paraphernalia in public places. Addicts do drugs everywhere. You cannot have Safe Injection Sites everywhere addicts use. You cannot have Sharps containers everywhere. No matter what is done, there will be addicts that 'don't give a damn'. But unless we try the inexpensive solutions first we should not be spending thousands of dollars on very controversial solutions.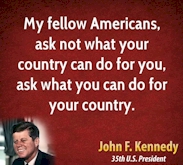 Too many times citizens are looking for the government to come up with all the solutions for societal problems. Many are willing to see an increase in taxes for the government to solve problems. Some believe the rich are responsible to cover all the costs of societal problems. The problem is that government overall is very inefficient compared to the private sector AND there are many things that citizens themselves can do at minimal cost. If concerned citizens will volunteer their time, there can be no costs involved. Isn't it time that Burien and nearby residents take ownership? Isn't time they become the solution instead of looking to Big Brother for the solution? "And so, my fellow Americans: ask not what your country can do for you—ask what you can do for your country." JFK
So what can we do for our country-our city? How can we make our city safer at the lowest cost possible in regards to needles and syringes? Are there some simple solutions to what at times seems like a major problem. (I say seems like because there are plenty of individuals that are making this issue larger than it is. There absolutely is not drug paraphernalia everywhere you go in Burien. Let's get honest, all of us have been in many areas of Burien where there is no syringes/needles-none. Some have ulterior motives by making he issue bigger than it is. That is an entire other topic.)
Yes there are some simple, affordable, cost effective solutions to Needles in the Park. My next post will give those solutions. I promise you if my solutions are applied, it will reduce Needles in the Park, reduce the number of addicts on the street, and will reduce the homeless problem. All this with little government involvement. All of this without tax dollars being spent, or very dollars spent. All this nullifying that one of the reasons for Safe Shooting Sites is to reduce the danger of drug paraphernalia in public places.
Click Here for one of the solutions.
Needles in Parks, Minimal Cost Solutions: Part One
Needles in Parks, Minimal Cost Solutions: Part Two
Needles in Parks, Minimal Cost Solutions: Part Three
Needles in Parks, Minimal Cost Solutions: Part Four
You disagree. You have some ideas. Feel free to comment or write your own post. Click Here for details. Let's Make a Difference Together!