Extreme Couponing to Feed Homeless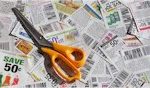 Extreme Couponing to Feed Homeless
Most of us for sure do not have the time to do what this man does to get free food for the homeless. He not only gets free food, but at times actually gets money also. How does he do it? Extreme couponing. He spends hours each day clipping out coupons for free items. He then distributes these items to the homeless. Again, most of us do not have the time to do this. BUT, what if in the midst of life we paid attention to coupons for free items, and instead of thinking if we can use or want the item, we asked, "Is this something a homeless person could use?" It would only take a minute to clip out the coupon and pick up the item the next time we shop. Then just had the item out the next time we see a homeless person.
There are some people that are retired that wish they could do more to help the homeless. Well, if you have some spare time, here is just one idea of a simple to help out. Who knows, maybe you become the Burien Grandma that helps feed the homeless.
Now some will focus on the homeless that reject food because they want money. Who cares? Don't bother with them. Some consider any help to the homeless as enabling them. Guess what? The homeless no matter how messed up they may be are going to eat. They will either eat at feeding programs, get food at food banks, eat food people offer them, or they will steal food. Giving them food at least stops them from stealing food.
Feel free to comment.